Citizens of Verdite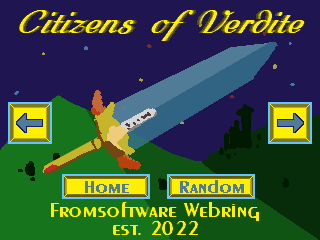 ~Welcome, Citizens of Verdite!~
This is a webring for fans of Fromsoftware games, especially those who enjoy Fromsoftware's games from decades back. A webring seems to be just fitting, doesn't it?
The basic functionalities of this webring are hosted by webri.ng! The Citizens of Verdite webri.ng page can be found here, and contains a list of current members and basic markup.
Guidelines for applying:
Be a friendly space for marginalized people.
Like Fromsoftware games, I guess
No currencies in bio, thank you
Apply by DMing me on Twitter, or email me at pearhi (AT) hotmail (DOT) com.
These are just the basic guidelines, but to quote Hotline Webring, "we reserve the right to remove a site if we (the webmasters) feel it is outside of our own personal bounds."
If you'd like to join, but do not have a personal website, please email me to apply for a "branch" of the ring. After all, Eternal Ring taught us that not all rings have to be, er, rings.
Now, will you be the next one to wield the fabled Sword of Moonlight?